Revolutionize Your Online Presence
Let's Unleash the Power of AI to Transform Your Small Business Website and Online Marketing
Yep, my site needs help!
Strategic & Tactical Brand Support
for Entrepreneurs and Their Enterprises
Professional Creative Services, Direct from the Source  |  Begin Here  |  Contact Me
Big Brands for Small Business:
ArkLaNet.com
Brand and Landing Page
ArkLaNet provides residential and business internet access for rural customers in southern Arkansas and northern Louisiana. Stepping into an existing service operation and customer base, it was important to present a brand that immediately identified and aligned with the unique needs of the target market: Internet Out Here!
Logo Development
The client invited existing staff members to suggest ideas for the new company logo. The internal winner is shown above, with the final Image Doctor version below.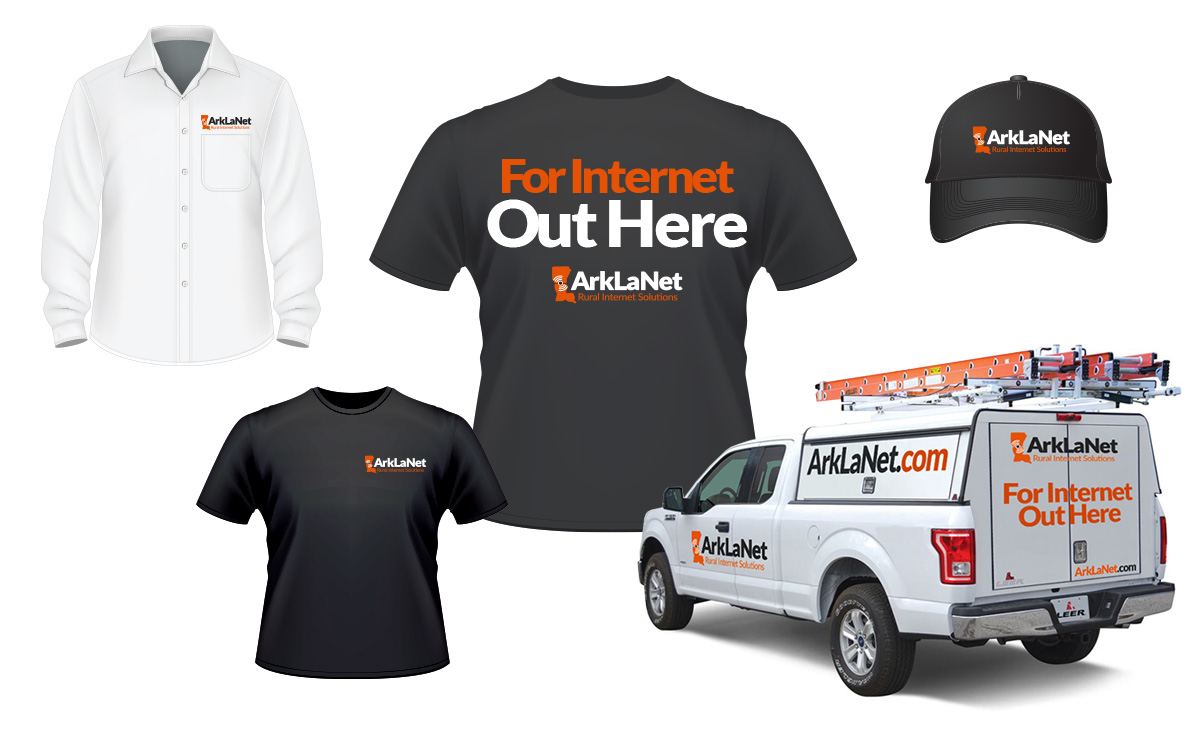 Brand Applications
To help internal teams embrace the new enterprise, branded apparel was gifted to field technicians and home office staff. Simple bold vinyl graphics were used as an effective and inexpensive option to full vehicle wraps.
Before & After Mirco-Site
HeartOfRoute66.org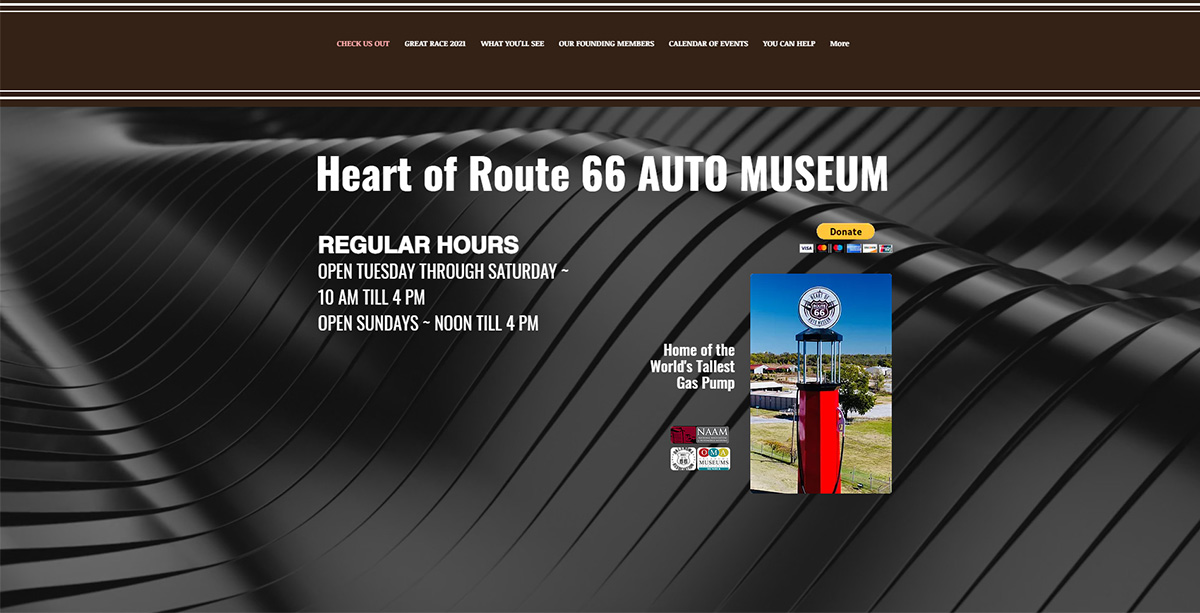 Before The Image Doctor
Like many smaller enterprises, the Heart of Route 66 Museum initially took a D.I.Y. approach to their website, using a popular online service. After years of frustration with both the appearance and operation of their site, the museum reached out to The Image Doctor for help…
After The Image Doctor
Working with little more than the existing logo, the original website, and a directive to "do your thing", The Image Doctor completely transformed the museum website. Hi-impact photography and a fresh, slightly "retro" design fits the brand, image and market perfectly; and the entire new site design/build took only two weeks.
Kevin is a master at taking my vision and creating marketing assets that communicate with excellence.
Kevin Lynam and I have worked together for over a decade and he fills many roles. I cannot imagine where I would be without his expertise and genuine care. He has been instrumental in my success and delivers excellent results at a tremendous value. Kevin's your guy if you want high-quality work done with a personal touch!
Sales skyrocketed under Kevin's very creative advertising leadership with many customers telling me how much they loved our ads.
When I formed my company in early 1994, my business was initially doing well but I was looking for more rapid expansion. I employed the marketing & advertising skill set of Kevin Lynam in 1996 to begin a new, purely local at first, ad campaign. Kevin and I came up with some great ideas and began our advertising program. Local business immediately jumped up substantially with the new exposure put together by Kevin. I soon proceeded to begin advertising on a national scale with many popular print magazines at the time. Kevin created numerous ad campaigns for me over the many years with magazines such as Motor Trend, Car Craft and countless others. He has also created many successful websites for my company over the years as well, including effective e-commerce solutions that generated very substantial income. Decades later, Kevin continues to design, update and maintain my company's website and I couldn't be happier with the results over our close to 30 year partnership. His unique and creative designs have proven to be very successful in generating the traffic and sales to grow my business far beyond my expectations.
Kevin was amazing and intuitive from day one to the finish line.
He took my ideas and created something simple yet appealing to the consumer. I really didn't have to make many changes because his vision was so in line with mine. I credit his experience and professionalism to really understand what the customer's "big picture" goals looks like. Through the process he provided so many ideas, but also structure to meet our deadline. In the future, we will definitely be using The Image Doctor to help keep our website fresh.
Kevin knew what people would want to see and how to persuade people to engage with the website.
I am so glad I chose Kevin to help me design my website. He helped me take a lot of thoughts and content and package it into a sleek and easy to navigate website. I have had alot of compliments on it. Kevin was very responsive and easy to work with. He did not cut corners when it came to graphics or content and wanted me to be entirely happy with our creation. I have seen a lot of his work thru the years, he is gifted in his work. Anyone would be fortunate to have Kevin on their team.
Kevin at The Image Doctor is absolutely brilliant in his visions and executions!
From our website to our business cards to our email signatures, Kevin will make sure everything is perfect, even if I am being difficult! He always knows just how to make our company stand out and is a marketing genius! I always know that our online presence is top notch because of The Image Doctor!
Kevin blew us away with his work on our first marina acquisition, so we have used him for every acquisition since.
My company, TopSide Marinas, has been very fortunate to find someone like Kevin Lynam. We needed help transforming websites, creating branding, logos, graphics, and promotional pieces. He truly goes above and beyond with clear communication, timely delivery of assets and exceptional work. I highly recommend Kevin for your next upcoming project if you want someone who will help you achieve your vision by delivering high quality work.
International Corporate Identity & Branding Experience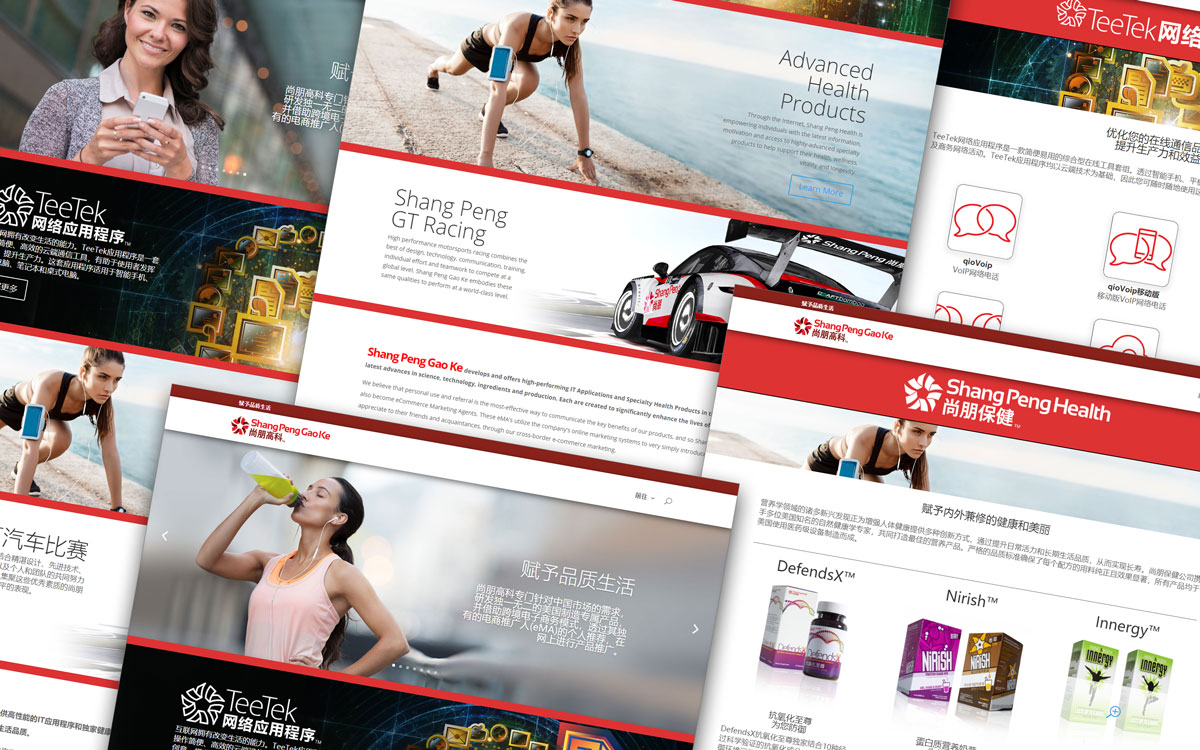 Though it may surprise many Americans, "Made in the USA" is very popular throughout the Pacific Rim of Asia. Shang Peng Gao Ke was specifically engineered from the ground up as a hybrid enterprise to serve these markets. To do this, Shang Peng offered a broad suite of "Americanized" direct sales products and business building resources to consumers and entrepreneurs, while operating in full compliance with local, regional and national requirements. Everything created for Shang Peng was produced in four languages: simplified and traditional Chinese, Japanese, and English. A multi-year project, The Image Doctor designed and produced 100% of the marketing communications, including the corporate brand, all retail product brands and packaging, corporate and product websites, comprehensive graphics for international training and sales events… and the list goes on. (Regretfully, explosive growth of SPGK in China attracted the attention of regional investors who stripped down the entire enterprise, removed the "Made in USA" appeal, and reformulated SPGK as a referral program for influencers on Chinese social media.)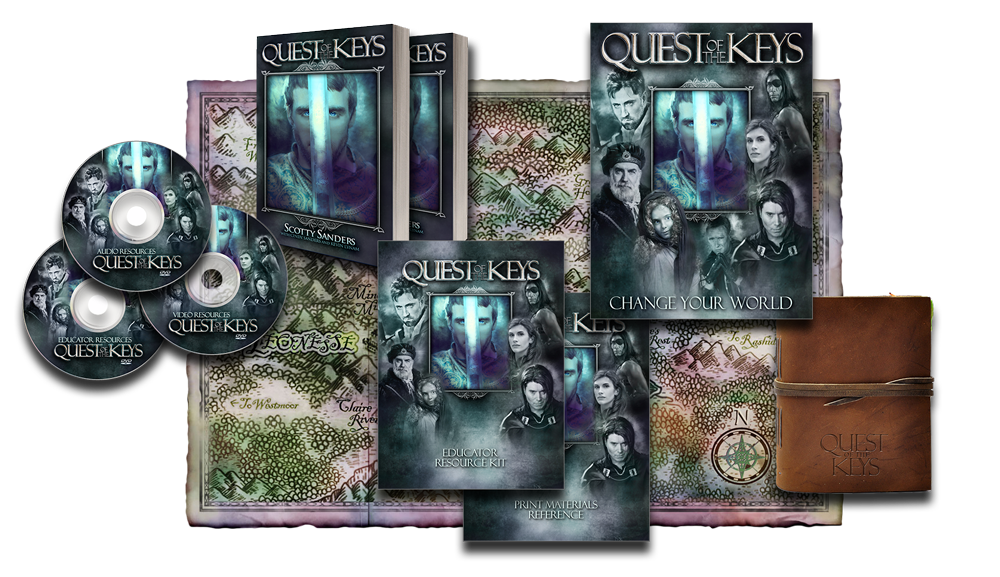 Quest of the Keys began as a fantasy-fiction novel, which introduced eight keys of character development to young readers. It has since been expanded to include a complete classroom curriculum (including student and teacher materials and promotional items) now being taught in over 20 states, and a stand-alone digital Personal Development System suitable for all ages. The Image Doctor serves as Creative Director for the project and has produced 100% of the materials.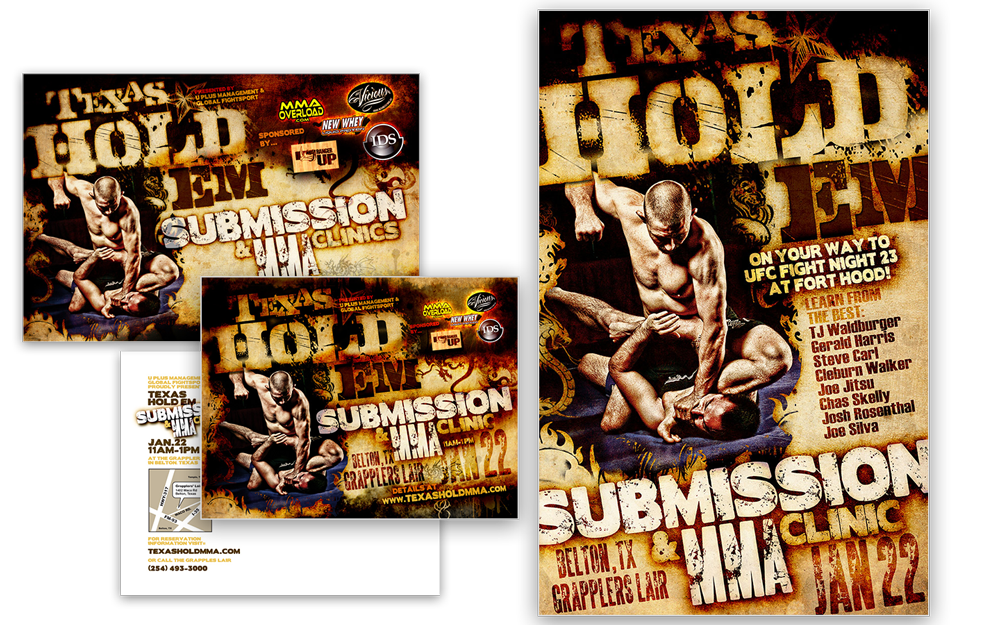 Texas Hold'Em was an advanced MMA clinic conducted at one of the nation's leading private training facilities in Belton, Texas. The organizers wanted a striking presence (no pun intended) for all of the marketing materials that connected the aggressive nature of the sport with the heritage and flair of Texas.
With The Boardroom, Dallas millionaire C. Horton brought the Shark Tank concept down to the level of local entrepreneurs, with a network of private investors and business leaders. The prescribed brand sets the high-end financial anchor with a nod toward antiquity.
Storage Choice entered the highly competitive self-storage business with 3 small facilities and a goal to challenge the national leaders in Texas. Today SC has facilities in 15 markets throughout Texas, and they continue to expand each year through acquisition and new construction. The simple, strong identity helped position the company on par with the national brands, and well above competing local operations.
Zenrise represented a new breed of "Made in the USA" product, created with an with an Americanized design, specifically for launch into East Asian markets. Brand applications ranged from packaging, to online advertising, to consumer swag, to race team sponsorship.
Swoon set the standard for high-fashion in home living, with an exclusive line of custom lamps, eclectic decor, and exquisite bedding available through a network of private sellers. The owner – and designer of the entire product line – sought a brand personality that was at once formal and whimsical.
Identity Case Study: Gearbox
Vintage-Hybrid Fashion Brand
Created specifically for non-US markets, Gearbox welded the popularity of vintage-esque clothing and hi-performance automotive themes into a uniquely "American" brand for export internationally.
Logo Exploration
Nearly 30 logos were designed and evaluated for the brand, with visual styles ranging from vintage, to retro, to modern.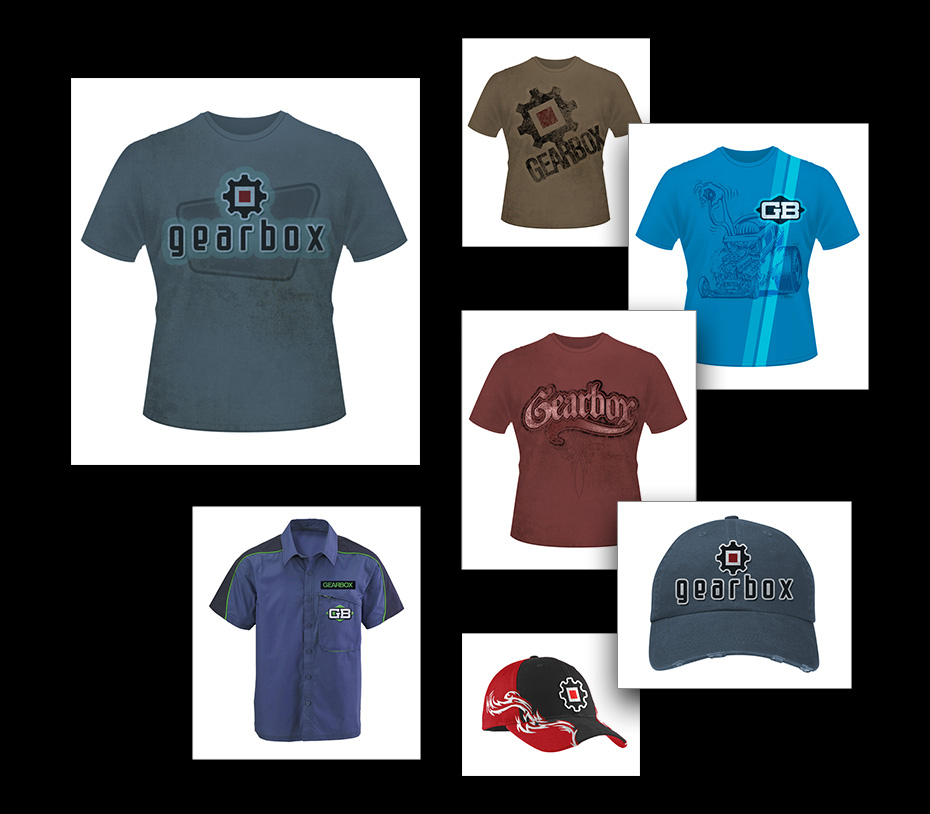 Clothing Designs
Although Gearbox would eventually grow well beyond clothing, casual wearable designs formed the core of the initial online offering for off-shore markets.
Online Store Designs
Multiple site-store designs were created and tested to maximize the Gearbox brand appeal within each target market.
Missed Opportunities
In 30+ years of practice, The Doctor has encountered many companies with exceptionally strong product / service offerings and exceptionally weak brands. On rare occasions, the mismatch between offering and branding is so egregious, the Doctor actually develops unsolicited new creative to help company leaders understand the opportunities for improvement with concrete examples. Typically, the response is both positive and appreciative, even if further action isn't viable. Some are prompted to action by the demonstration. Others want exactly what The Doctor delivered, and a new business relationship is born. The most fascinating are those who are simply never heard from, and their brands never change. Here are a couple of those strange cases…
Photography & Videography
Direct Mail & Promo Inserts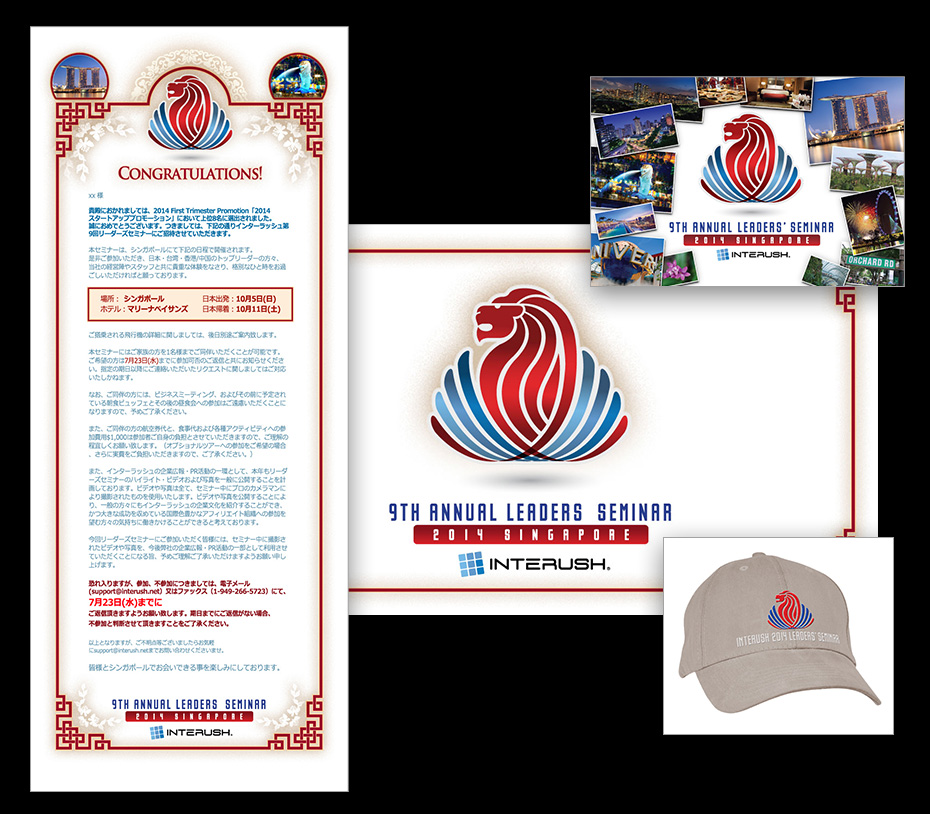 Conference Materials
Interush Annual Leaders Seminar
PowerPoint, Email Campaign, Postcards, Show Graphics, Event Banners, Name Tags, Attendee Swag
Print & E-Newsletters
Shang Peng Gao Ke Distributor Newsletter
Race Team Livery
Interush Racing Team SCCA Mustang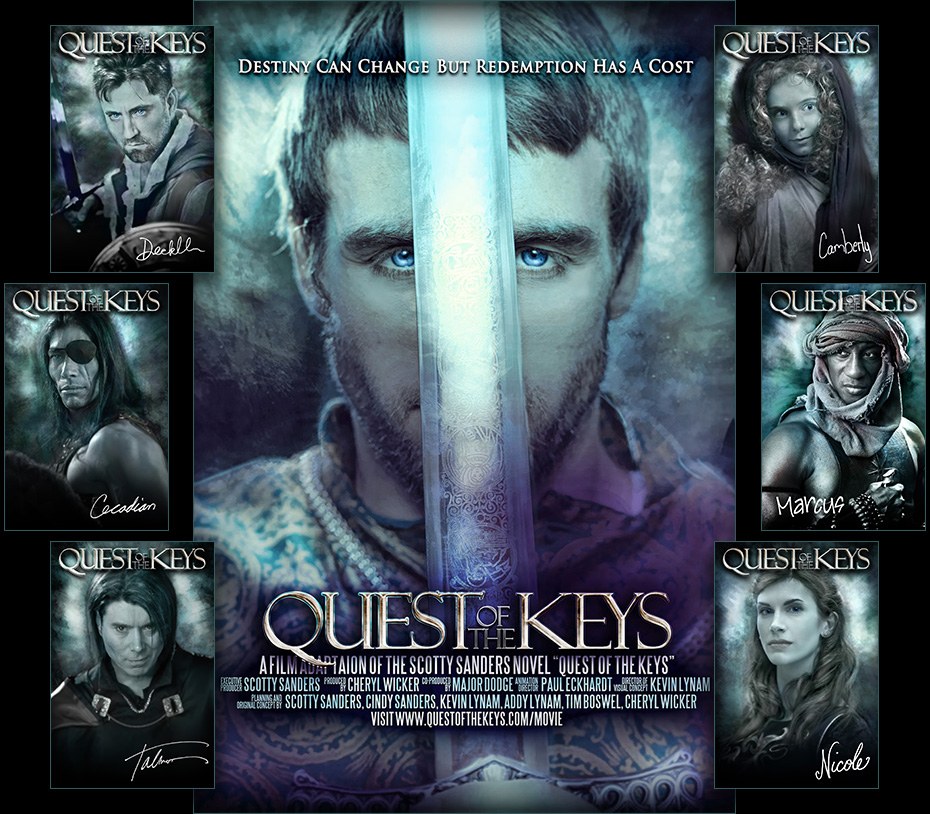 Print Promotions
Quest of the Keys Classroom Posters
Book Cover Designs
Scotty Sanders and Quest of the Keys
Need Help Now ?
The Doctor Is In…
Have you lost control of your WordPress website?
Struggling with new opportunities or competitive challenges?
Ready to take your brand and messaging to the next level?
Just looking for advice or assistance?
The Image Doctor is ready to help with the right treatment for whatever marketing ills you're facing. Simply complete and submit a new patient form to the right. The doctor will review your case information and reply within 24-hours.
For emergency assistance, click the "call the doctor" button below.